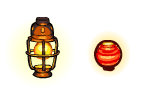 An audit of the electricity used in Moltara City is being conducted. It seems that one of the hanging lanterns (on the left of the image) uses 79 watts of power. The spherical lantern (on the right) uses 47 watts. And fans use 113 watts.
How many watts are being consumed by these items in Moltara City?
Please submit only a number with no other information.
Not 100% sure. Add any comments below if you have any further input.