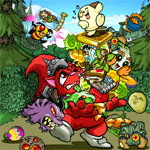 Wallace was a Wocky who loved to catch things! Most Neopians would claim those things were junk, but Wallace disagreed.
Plushies, codestones, books, you name it, Wallace would catch it. Any item Wallace caught would be added to a big pile of items he would balance all day long. When Wallace got too tired of balancing, he tossed all those items out.
One day, however, Wallace caught something he couldn't throw away. Wallace spent the next hour running around, unable to sit still. He continued on into the night without sleeping or eating. Poor Wallace!
What did Wallace catch?