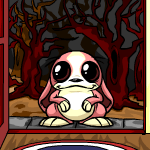 Farmer McGee was dismayed one morning when he woke up to find all of his crops had been destroyed by a herd of wild Gangees. Since Farmer McGee needed breakfast, he decided to make a trip to Meridell Market to buy his favourite breakfast food, aubergine.
At Meridell Market, Farmer McGee found three stalls, all in a row, with each Neopet claiming that their aubergines were the best in Meridell.
Farmer McGee couldn't afford to purchase an aubergine from each farmer, and he didn't want to leave his choice up to chance, either. Farmer McGee had heard rumors that two of these three farmers were liars. After some interrogation, Farmer McGee was able to get these three claims from the Neopets:
Farmer Larry claims that Farmer Russell is a liar.

Farmer John claims that Farmer Larry is a liar.

Farmer Russell claims that both Farmer John and Farmer Larry are liars.
Who is telling the truth? Please provide only the name of the Neopet.