Rohane decided to put Mipsy to the test using a complicated maths problem he learned from a wise old sage on some adventure somewhere, he forgets exactly.
"Twelve plus twelve plus twelve plus twelve plus twelve plus thirty equals ninety," he said. "But it also equals another number. If you can tell me that number, you can skip cleaning duty tonight." Mipsy HATED cleaning duty! I mean, really, who likes cleaning duty?
She's clever, though, and was on to his game. She came up with the following forumla and knew she was on the right track: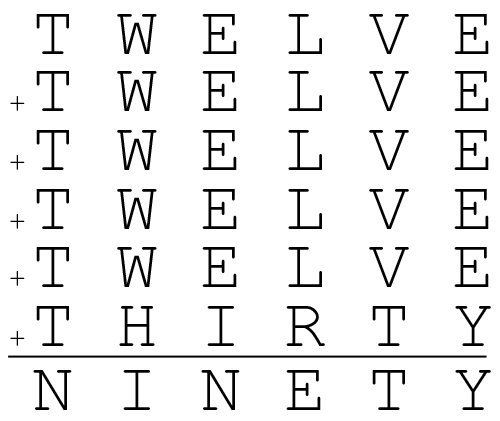 So, what number gets Mipsy out of cleaning duty?

Enter just the number, without punctuation, or your answer will be marked wrong!