A frugal Neopian decides to buy a Kepru companion. He pays 5,112 NP for it, and he is very content with his new Petpet. A few months later, though, the value of Kepru has increased to 6,070 NP and he decides to sell it to someone else. A few days later he realises that was a mistake. He really misses the Kepru so he buys it back. Unfortunately he has to pay 6,516 NP to get it back, so he loses 446 NP. After another year of owning the Kepru, he finally decides once and for all to sell it for 7,555 NP and make a tidy profit.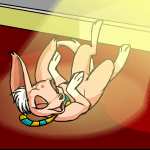 What is his total profit after all is said and done?
ANSWER : 1997
There seems to be two answers. Read the comments, and go with your best judgement.